2017 Human Rights Awards - Recipients
Dec 07, 2017
Each year, the Nova Scotia Human Rights Commission recognizes Nova Scotians nominated by their peers for work in the field of human rights, social justice and advocacy. This year is particularly special, given it is the commission's 50th anniversary – the organization was established in 1967. The theme of the 50th anniversary is "Learning from our past, building for our future."
"We've come a long way since 1967, and we recognize that more progress is needed to ensure respect for human rights. This can only be realized in partnership with Nova Scotians," said Christine Hanson, commission director and CEO. "We are fortunate to live in a province where we not only have human rights protections in law, but we also have passionate and engaged people like the individuals and organizations we honoured today." The recipients are:
YOUTH AWARD
Joshua Cochrane, 11, Yarmouth, honoured for his work to foster an inclusive environment for persons with disabilities.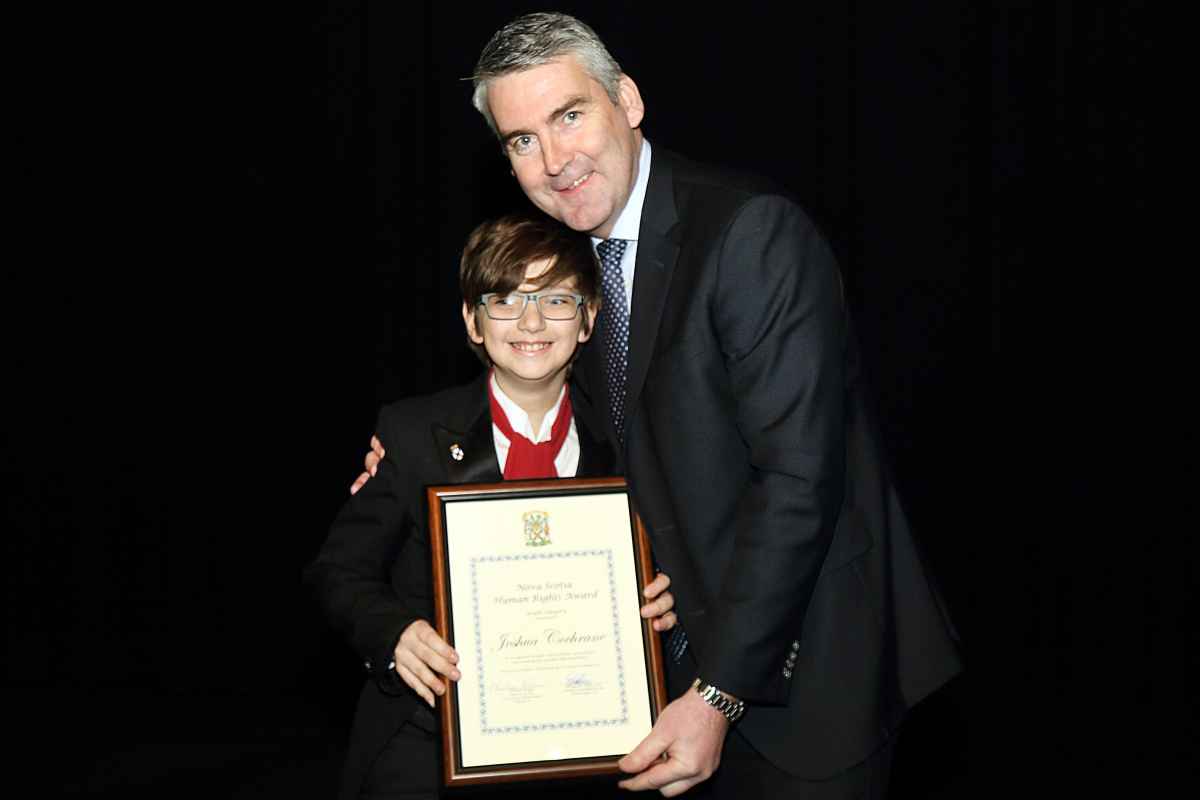 At a very young age, Joshua Cochrane was diagnosed with autism. Now, at 11 years old, he uses his personal journey to show the world that people on the spectrum can do anything that they want to do and helping to foster a more inclusive environment for persons with disabilities.Josh has attended the World Autism Festival several times, which has enabled him to connect with his peers who have autism from over 60 different countries. He was featured in a documentary called Connected: A Film About Autism, which was screened in Hollywood, New York City and other cities around the world. Since the age of 2, Josh has used his musical talents to help raise awareness about childhood cancer, veterans, mental health, organ donations, stem cell/bone marrow donations, PTSD, Wounded Warriors Canada, Hospice, Relay for Life and Children's Miracle Network. By the time that he was 8 years old, Josh raised over $300,000 for various charities. He was recently one of four recipients of the 2017 Prince of Wales Youth Service Award.
DR. BURNLEY ALLAN "ROCKY" JONES INDIVIDUAL AWARD:
Wade Smith, Halifax, recognized posthumously for his leadership in human rights, inclusive education and community mentorship.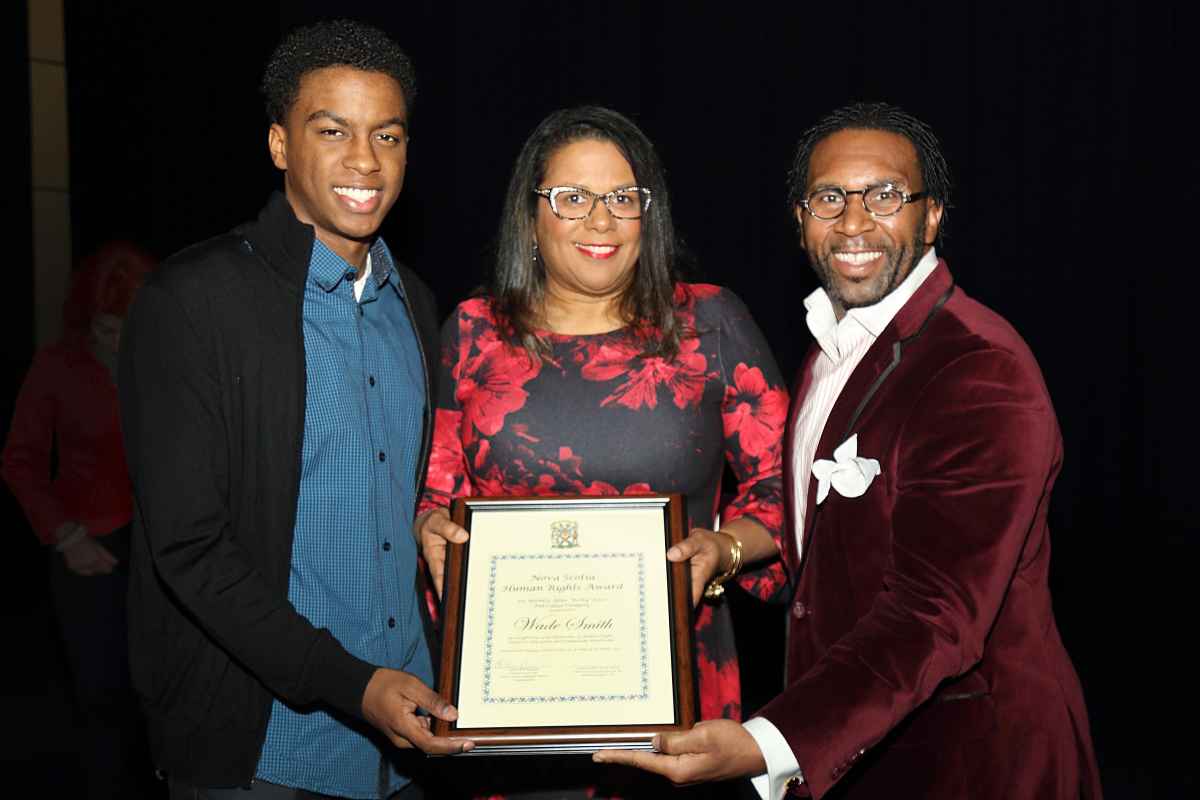 Wade Smith embodied the "Each One, Teach One" philosophy and delighted in giving back to his community. An educator, mentor, community activist, loving husband to Sherry and father to Jaydan and Jaxon, Wade was a passionate humanitarian who championed human rights for all. A proud African Nova Scotian, he attained a Bachelor of Arts from Saint Francis Xavier University, a Bachelor of Education from Saint Mary's University, and a Master of Education degree from Mount Saint Vincent University. As a teacher and principal in public school, adult and university education for over 25 years, Wade was genuinely concerned about all students, particularly marginalized youth. He was solutions-focused; working conscientiously to create a safe learning environment that welcomed diversity, embraced equity and protected against discrimination and harassment. To fellow educators, he was a role model; leading the way on culturally proficient mentorship, curriculum and training development.
A devout athlete, he gave back to the basketball world through coaching at the Community YMCA, high school, and Basketball NS which led to the pinnacle of his coaching career when he was named head coach of Nova Scotia's U-17 Boys Canada Games Team. As a mentor, Wade believed in setting goals, sharing his time and making a difference in the lives of everyone he encountered. He often expressed, "Giving back was not a choice. It was an obligation." "You get up everyday and go to work and make a difference in someone's life." Above all, Wade emphasized that his family was paramount. His wife and sons were his source of support and strength enabling him to enrich the lives of many Nova Scotians. Wade's legacy lives on in the lives of all whom he inspired.
Angela Simmonds, Cherry Brook, Halifax Regional Municipality, recognized for her commitment to human rights by helping African Nova Scotian communities to obtain titles to their land.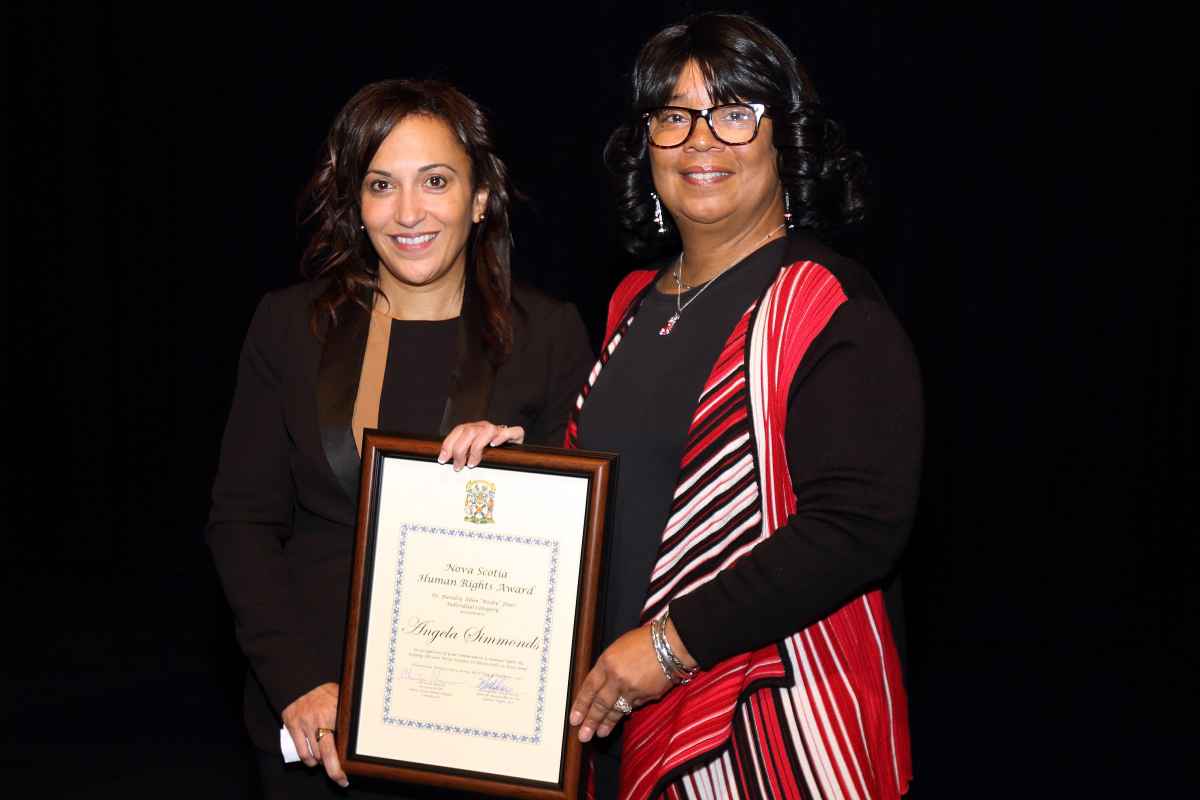 Angela Simmonds believes that the law can be used as a tool to address discrimination, systemic racism and inequities in our society. She has become a legal expert on Preston land claims and issues relating to the Land Titles Clarification Act (LTCA). Because of her workhelping African Nova Scotians to obtain titles to their land that their families have lived on for generations, she appeared before a United Nations expert panel that subsequently echoed her recommendations in their preliminary report. She also worked closely with the Nova Scotia Community College to create a video on the subject that was recently awarded the Human Rights Amnesty Award. A JD graduate from the Dalhousie Schulich School of Law, Angela currently works for the Nova Scotia Legal Aid – Youth Office. She has previously worked for the Nova Scotia Barristers' Society, Federal Prosecution Service Canada, the Department of Natural Resources, Schools Plus and the Halifax Regional School Board. She is a recipient of the 2017 Judge Corrine Sparks Award and the 2017 Dalhousie Legal Aid Service's Sarah MacWalker MacKenzie Clinical Law Award
Nicole Doria, Halifax, a recent graduate of Dalhousie University, honoured for her commitment to promoting human rights in support of the health of Indigenous peoples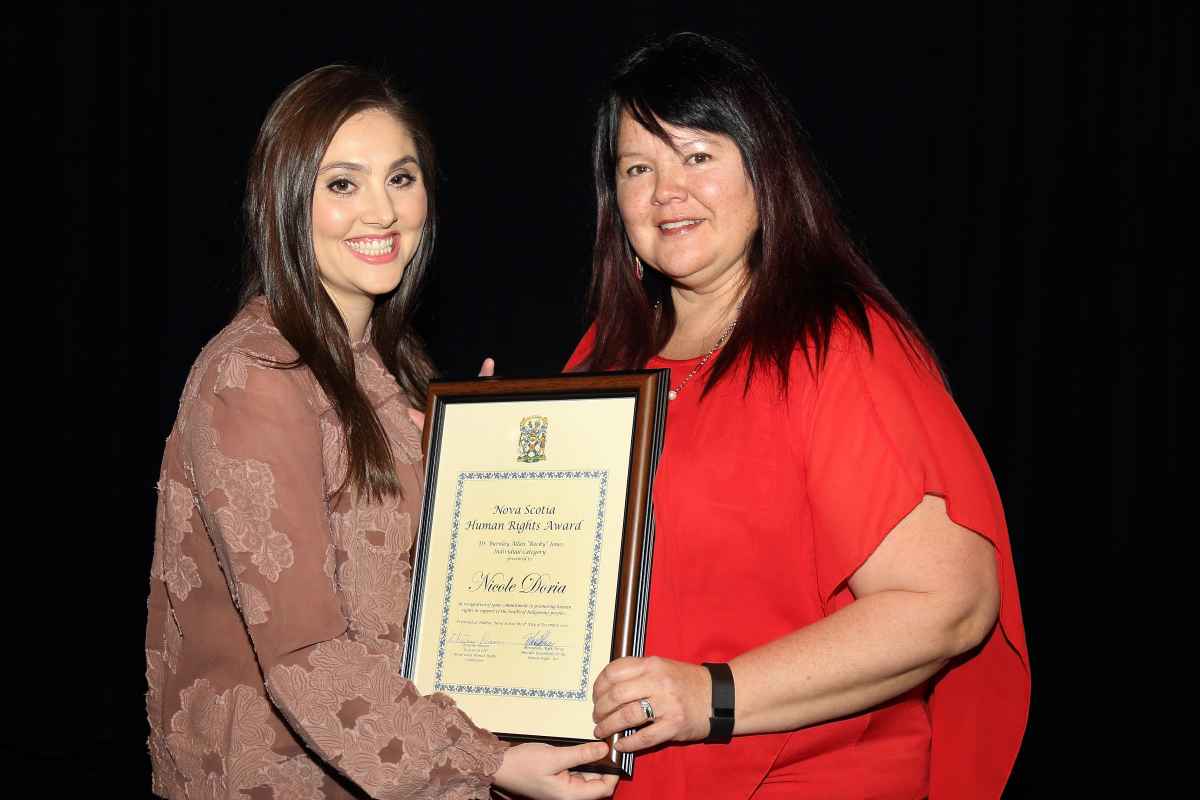 Nicole Doria is a recent graduate of the Master of Health Promotion program at Dalhousie University and currently works in patient-oriented research at the Maritime SPOR Support Unit. Nicole holds leadership positions on the Avalon Sexual Assault Centre Board of Directors and the Indigenous Health Interest Group at Dalhousie, which aim to close the human rights gaps that exist for victims of sexualized violence and Indigenous peoples in Nova Scotia. Through her various roles, Nicole has become a strong advocate for improved Indigenous health and wellness, the advancement of an Indigenous curriculum, improved affirmative action policies, and the prevention of sexualized violence across the province. She is described as having a spirt of excellence, an incredible work ethic, a genuine ability to lead, and an inspirational desire to improve the world around her.
GROUP/ORGANIZATION AWARD:
Syria-Antigonish Families Embrace (SAFE), a group in Antigonish recognized for its work to promote human rights by resettling Syrian refugee families.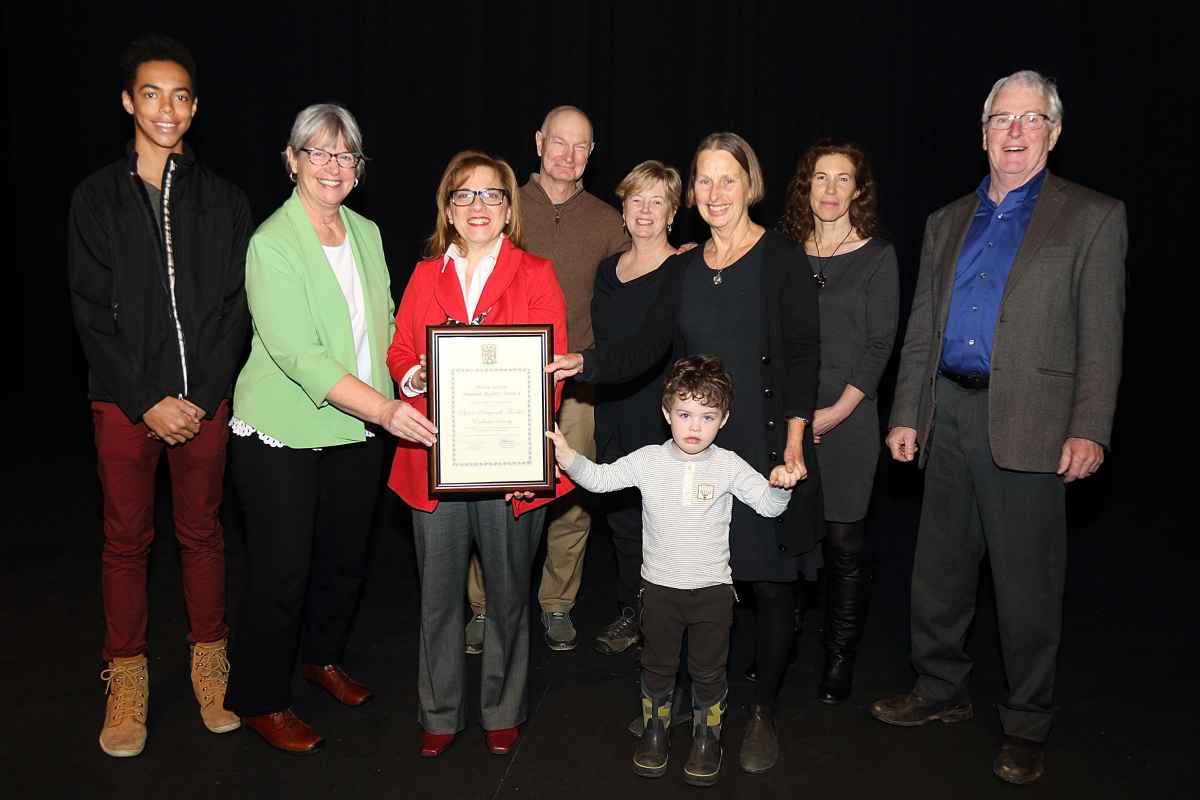 SAFE is a community initiative that has sponsored Syrian refugee families displaced from their homes by war and helped them to start a new life in Antigonish. It has a core organizing group of 20 people from all walks of life, but they are fortunate to have the active involvement and support of the larger community. Since May 2015, SAFE has sponsored four Syrian families with one more expected in early 2018 and another later in the year. The community has come together to secure and renovate housing; find furniture and clothing; connect the families with healthcare; settle the children in school and the adults in English language classes; help the adults to open bank accounts; and so much more. SAFE truly believes that the Syrian refugee families have helped Antigonish to become a better, more loving community and they are humbled by the generosity of all those who have supported the initiative.
Bill 59 Community Alliance, recognized for its advocacy for the rights of persons with disabilities throughout the province.
The Bill 59 Community Alliance is a group of advocates that formed a single voice for persons with disabilities. It was supported by 35 organizations representing all disabilities. The Province of Nova Scotia invited the Alliance to help draft the Nova Scotia Accessibility Act. The first time such a collaborative legislative drafting process has been undertaken in the province. The result: perhaps the most progressive accessibility act in Canada with a stated goal to make the province fully accessible by 2030. It is the third such Act in Canada. It also profoundly changed the institutional landscape for supporting persons with disabilities, transforming it from a Social Service Model to a Human Rights Model. The Act resides with the Minister of Justice.
Women's Wellness Within, Halifax, recognized for its work to promote the rights of incarcerated and criminalized women and their children.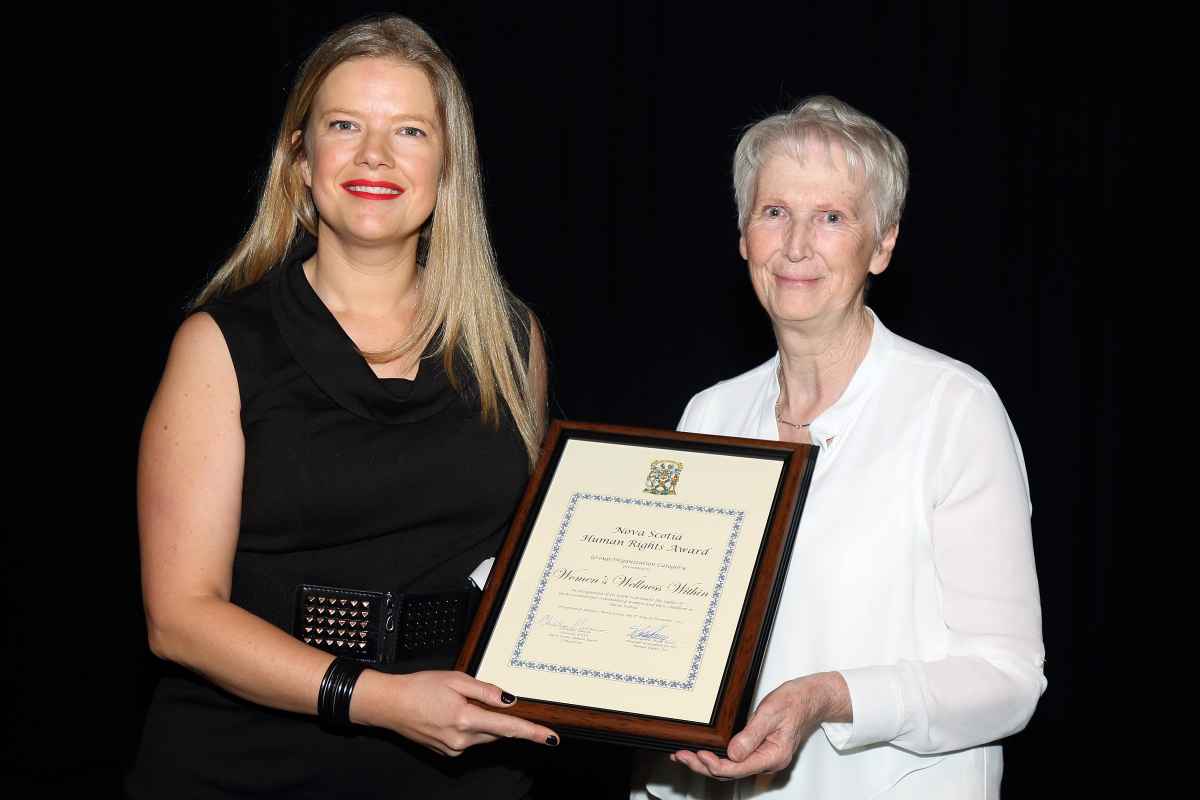 Women's Wellness Within is a non-profit organization that supports criminalized women and trans individuals who are pregnant or parenting young children in Nova Scotia. In addition to one-on-one client support, WWW facilitates monthly workshops on women's health for imprisoned women; leads seminars for health professionals and students; and speaks publicly to raise the consciousness of the rights and reproductive health experiences of criminalized women. WWW's work also includes advocacy on behalf of criminalized women on issues, such as banning the solitary confinement of women; providing access to internet and phone for incarcerated women to communicate with their families and to develop health literacy; ensuring dignity and respect for imprisoned trans individuals; and developing alternatives to incarceration to advance reproductive justice and women's rights to parent. WWW's 50+ members include formerly incarcerated women, doulas, health care providers, lawyers, students, researchers and mentors. It works in close partnership with the Chebucto Family Centre, the Elizabeth Fry Societies of Cape Breton and Mainland Nova Scotia, the IWK Health Centre, and the Halifax Branch of the Women's Legal Education Action Fund.