Youth Art on Human Rights Appearing in Halifax Transit Buses in July 2017
Jun 30, 2017
If you're riding a Halifax Transit bus in July 2017, take a look up. The Nova Scotia Human Rights Commission, in cooperation with Partners for Human Rights, is pleased to share the work of four young artists on the interior bus signs. This initiative, launched to coincide with the Commission's 50th Anniversary, aims to help raise awareness of important human rights issues in Nova Scotia. Youth across the province submitted artwork that represents what human rights mean to them.
The Commission will also continue to feature young artists throughout 2017, including through exhibits in communities across Nova Scotia and at the Halifax Stanfield International Airport this Fall. More information on the Commission's 50th anniversary and related events can be found here. See an exhibit coming to your community? Contact us (HRCInquirie@novascotia.ca) if you are aged 12 to 24 and want to submit a piece of artwork according to the guidelines of this initiative.
The four pieces in Halifax Transit bus interiors are:
Jillian Connors, Age 21, Truro, Nova Scotia
"We are all human regardless of age, gender, ethnicity, etc. and should be treated as such."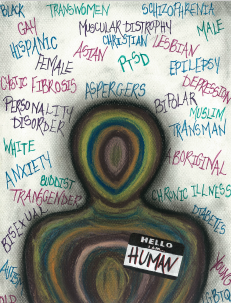 LACEY BROWN, AGE 13, Grande-Pre, Nova Scotia
"We are all equal no matter what our colour, religion or gender are."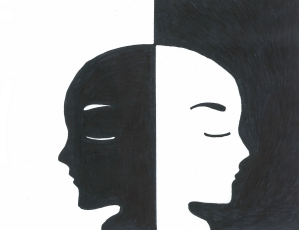 MANANI JONES-LAMONT, AGE 16, Halifax, Nova Scotia
"This piece is about the human rights of women around the world. I am an African Nova Scotian young woman and I believe in advocating for all women."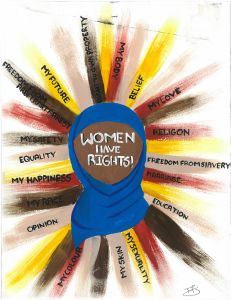 TRINITY DEJONG, AGE 13, Brookside, Nova Scotia
"This piece is about being transgender and hiding that you are."
No one should have to hide who they are.