2018 Human Rights Awards
Recipients of the 2018 Nova Scotia Human Rights Awards were honoured at a ceremony December 10, at the Halifax Central Library.
Each year, the Nova Scotia Human Rights Commission recognizes Nova Scotians nominated by their peers for work in the field of human rights, social justice and advocacy.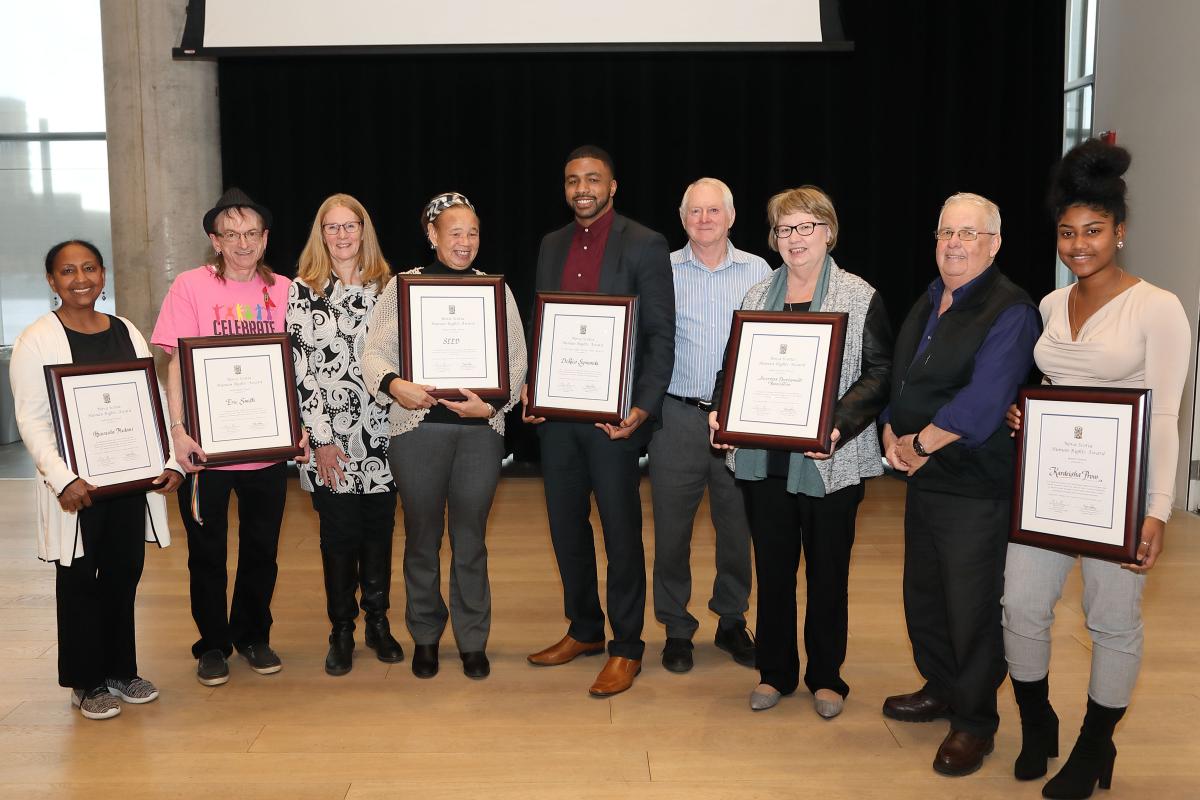 This year's award recipients were:
Youth Award: Kardeisha Provo
Kardeisha Provo is a first-year university student at Ryerson U in Toronto who was born and raised in North Preston Nova Scotia. Kardeisha strives to make herself, her community and the world better by doing her part and continually seeking to fulfil her purpose. In 2017, Kardeisha launched a self-titled YouTube channel that highlighted members of North Preston in attempts to shed light on a community that the world perceives to be in darkness. Her main goal is to shift the minds of her people to not only see themselves as greater than portrayed, but to showcase success amongst each other. Kardeisha wishes to advocate for youth to help bridge barriers of communication. Her work extends beyond her Youtube channel and into many sectors dedicated to the growth of the Black community in Canada. She speaks her truth and faces the reality of what it means to be from the largest indigenous Black community in Canada.
Dr. Burnley "Rocky" Jones Award: DeRico Symonds
DeRico Symonds advocates tirelessly on issues ranging from poverty and unemployment to affordable housing and community violence. He works full-time at Halifax Regional Municipality as a program manager with the Youth Advocate Program, and part-time at Mount Saint Vincent University as Black Student Support Coordinator.
He co-founded Future Roots Halifax, a social enterprise employing young people ages 13-17 in Halifax's North end. He has received the Queen's Diamond Jubilee Century of Service Award, was accepted to 21inc 21leaders program and has received the Irving & Ruth Pink award for youth development and social justice. In 2016 he started The Give BACK campaign to help families across HRM who have difficulty providing a Christmas meal for their family, raising close to $5,000, providing meals to 40 families and support to Feed NS.
DeRico holds an undergraduate degree in Child & Youth Study ('12), and a MEd in Counselling ('18). He is currently completing his Canadian Certified Counsellor Certification.
Individual Award: Eric Smith
Eric Smith knew at a very young age that he was "different", and feels he was blessed to grow up in a family who provided him with a safe place to explore that difference. With three younger sisters he became an early feminist. He taught school for nine years. He served as chair of the local home and school and president of the teacher's union local. Eric tested positive for HIV in 1986; his status became public in 1987. Forced from his job, he became an HIV/AIDS and Queer activist. He served on the NS Task Force on AIDS; the resulting recommendations influenced government, education and legal policies. Eric helped establish the NS Persons with AIDS Coalition in 1988, served on the board and as chair, and served on the NS Advisory Committee on AIDS. He has taken part in about 400 presentations and workshops. Eric has been honoured to collaborate with so many inspiring people in the HIV/AIDS movement, Queer community, allies and world class health professionals. Eric is the recipient of the Canada 125 medal and the Darlene Young Community Hero Award.
"Having lost over 550 friends to AIDS, I hope that my advocacy work has in some way helped to honour their memories," says Smith.
Individual Award: Huwaida Medani
Huwaida Medani is an educator and diversity and inclusion consultant. She holds a master's degree in educational psychology from the Mount Saint Vincent University, a bachelor's degree and a Post Graduate Diploma from University of Khartoum, Sudan. Huwaida's work and advocacy focus on intersectional feminism, gender equity, community development, inclusive diversity, and migration. Huwaida lives in Halifax and she currently works with the Halifax Regional Municipality as Advisor of Diversity and Inclusion.
Organization Awards: Inverness Development Association
The Inverness Development Association (IDA) was founded almost 50 years ago to promote the social and economic well-being of the village of Inverness, Nova Scotia. In that capacity, it has developed significant infrastructure for the community – including the development of the Cabot Links golf course -- and continues to organize community services and events. These services include the Inverness Visitors Centre, and the Inverness Summer Homecoming and Christmas Parades. We also support facilities at Inverness Beach including an extensive boardwalk system, restroom and canteen facilities, beach lifeguard protection, and accessibility services for the disabled, seniors, and families with small children.
Organization Award: South End Environmental Injustice Society (SEED)
With a confident stand and determination to bring to light and alter racist acts that made it seem acceptable to place hazardous landfills in Black communities, the South End Environmental Injustice Society is speaking out and working with other groups to improve the health of the Black community in Shelburne South End.
SEED believes that exposure to these hazardous materials caused long-term risk to the health of the environment and is the reason that there is such a high rate of cancer in this Black community.
SEED decided to form a group that would address this issue of Environmental Racism in the Black community of Shelburne after working with the Enrich project of Dalhousie University and Dr. Ingrid Waldron. From this group came the voice to protest this town dump and have it closed for good.
"We must become a part of a new model of clean environment and promote health in all communities and we must do it now."